Industrial Repair
Information, Tips and Resources
Featured
Repair Project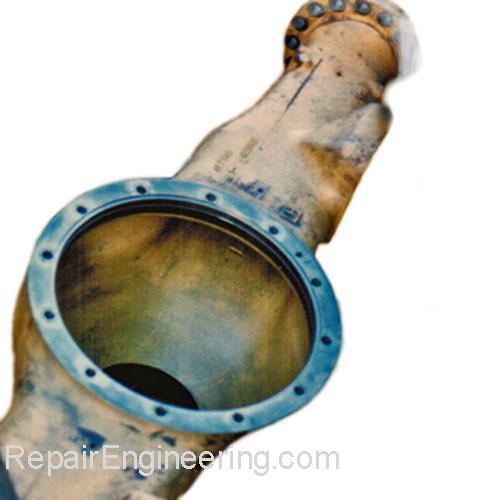 In this
repair project
...
stripped threads in a Caterpillar differential housing are repaired by modifying Keensert thread repair inserts.
Do you need help solving an
Equipment Repair challenge?
Whether your interest is to...
Learn about a new technique
Diagnose the root cause of a component failure
Find a resource to help solve your unique challenge
... you will find valuable information here.
Collectively, the RepairEngineering team has several decades of practical experience with skills in:

Failure Analysis

Mechanical Engineering

Job Shop Repair Techniques

Custom Machine Tool Design

Specialized On-Site Machining
This service is an information resource providing a link between...
Manufacturers of repair tooling and products
Suppliers of Repair Services
End-Users of industrial repair products and services
TIME IS MONEY...
With industrial machinery downtime valued
as much as a million dollars per day,
the potential value of this information could be significant.
RepairEngineering is designed to pass-along information to help you...
Understand the root cause of the problem
Review options
Implement solutions
Best of all, the information is FREE!
Be sure to check back often as this site is updated regularly.
Industry News
FLSmidth to acquire German TEUTRINE GmbH Industrie Technik
reuters.com
The company predominantly carries out maintenance and repair services at site where they offer mobile solutions within repair (welding), refurbishment (machining, grinding, hard facing and overhauling), replacement...
Wartsila opens new Propeller Repair Facility in Colombo
sundaytimes.lk
The new repair facility enables Wartsila Sri Lanka to offer a wide range of services with rapid response times.
General Dynamics to buy ship repair company
businessweek.com
The acquisition will become part of the shipbuilding, maintenance and repair operations of San Diego-based General Dynamics NASSCO.
Peak Hydro Services and Voith Hydro's After Market Business Division Combine to Create Voith Hydro Services
marketwatch.com
Voith Hydro Services will be a one-stop shop and full-service provider for turbine and generator parts and repair... field machining, and site maintenance.
Repair Technology:
Laser welding process devised for large-area protective layers
industrial-lasers.com
... this new process could be used in a number of other applications: protective layers on shafts, rollers, and clamping devices; repairs on transport systems; or adding protective layers onto stressed areas of oil drilling shafts.
Shermco To Roll Out Caterpillar's Advanced Coating Product
nawindpower.com
... the laser process, which creates a full metallurgical bond with the shaft substrate, can be used to repair damage to the coupling area in shrink disk designs, where previously the shaft would be scrapped...
Rolls-Royce granted patent for laser-brazing BLISKs
industrial-lasers.com
Brazing powder is jetted into the laser beam and shields the blade, so that only the brazing metal is heated and melted.
Aerospace Brazing Today, Tomorrow
onlineamd.com
Inside turbines, the use of pre-sintered preforms (PSPs) are to repair vanes that are breaking down due to excessive heat and wear.
The Value of 3-D CAD in Ship Repair
marinelink.com
...A recent ship repair project where a ship had crashed into a pier and experienced bow damage above and below the waterline illustrates the value of 3-D CAD in repair operations.
For more Repair Engineering news headlines...
click here
Featured Articles

Shaft Straightening Tips
Bent shafting can sometimes be salvaged by the proper use of straightening techniques.

Thread Repair Tips
This in-depth, illustrated article provides detailed thread repair procedures including welding, epoxy repair, thread inserts. Decision flowchart to help determine the best technique.
Cavitation Causes and Effects
This is an overview of cavitation failures in industrial machinery. It includes links to related repair news articles, video, and animation illustrating the cavitation process.